16500 Litre
2500mm height
3100mm diameter
Price $2250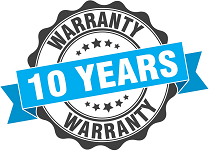 All our water tanks are supplied with:
Inlet mozzie strainer
Brass outlet
90mm Overflow
16,500 Litre Round Rainwater Tank
Straddling that fine line between being a domestic water tank and a tank for low level agricultural use, the 16,500L round water tank from All Oz Tanks is designed to hold water for uses ranging from washing the family car to providing your crops with the water they require. Made from highly durable, UV stabilised food-grade polyethylene, the 16,500 litre round rainwater tank has been certified to the AS/NZS4766 water tank standard.
Standard features include:
1) Inlet leaf strainer
2) Mosquito strainer
3) 90mm overflow
4) Brass outlet
5) Wide range of colours to choose from
You'll also be provided with the manufacturer's generous full 10 year warranty. When it comes to 16,500 litre round water tanks in Melbourne, there's no one better to help you than All Oz Tanks. Get in touch with us today.