10100 Litre
2530mm height
2400mm diameter
Price $1650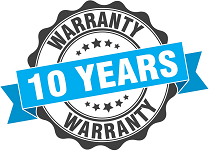 All our water tanks are supplied with:
Inlet mozzie strainer
Brass outlet
90mm Overflow
10,100L Round Water Tank
Ideal for large residential properties looking to store significant volumes of water for use in the garden or even for flushing the toilet, this 10,100 litre round rainwater tank from All Oz Tanks is sure to impress. Manufactured using heavy-duty polyethylene that is UV stabilised and classed as food-grade, the 10,100 litre round water tank is also certified to the AS/NZS4766 water tank standard.
Features include:
1) An extensive range of colours to suit your property
2) Leaf and mosquito strainer
3) 90mm overflow
4) Brass outlet
You'll also be supplied with the manufacturer's full 10 year warranty, giving you complete peace of mind. So when you're looking for the best deals on 10,100 litre round rainwater tanks in Melbourne, get in touch with the specialists at All Oz Tanks.